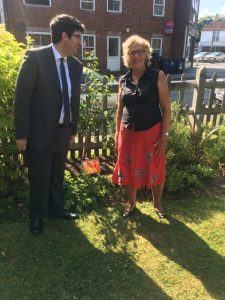 Last weekend there were thousands of Great Get Together events across our nation on the anniversary of the death of Jo Cox MP. These were inspired by her words,  "far more unites us than divides us".
At St John's Church in Farncombe the Great Get Together event took the form of a Father's Day tea-party. We also planted a cherry tree which was dedicated by Rev James Rattue and held a short service.
Local people and local businesses made kind contributions. Our new bakery, Loaf, gave a gorgeous chocolate cake. Gorringe &Son gave an engraved brass plaque to mark the occasion. Godalming Choral Society sang for the service which added to the feeling of harmony.
It was an inspirational and emotional time of togetherness and using words from one of the readings at the service – words said by Robert Kennedy after the killing of Martin Luther King, "Surely, we can learn to look at those around us as fellows and surely, we can begin to work a little harder to bind up the wounded among us and become in our hearts, brothers and sisters again."
Let us work a little harder – together!