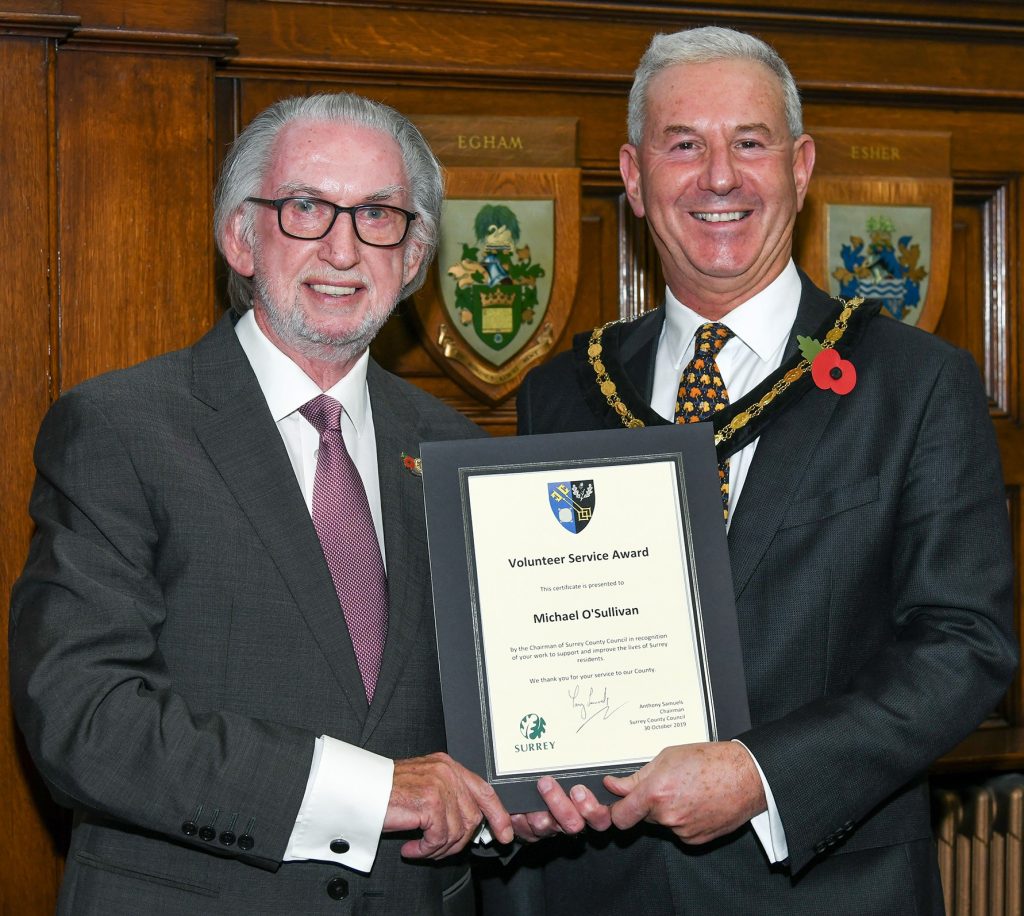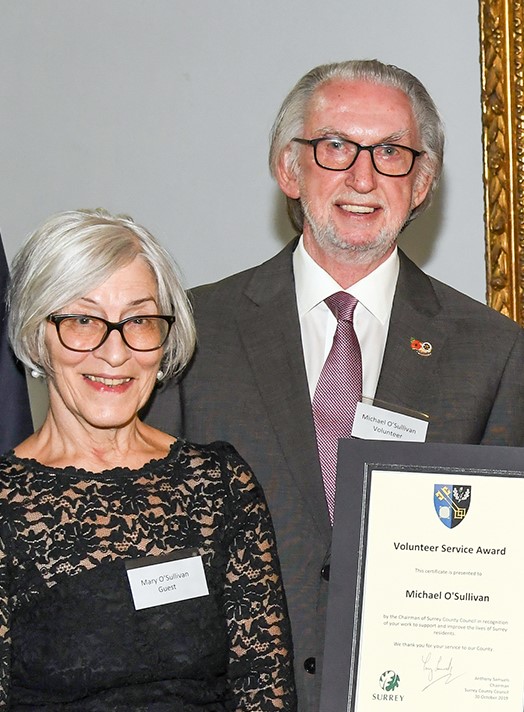 What a privilege to nominate Michael O'Sullivan for the Surrey Volunteer Service Award. I am so pleased that his service to sport and film and so much more in our community has been acknowledged by the Chair, Tony Samuels.
Congratulations, Michael and Mary.
Michael's nomination:
Michael O'Sullivan is involved in many volunteering roles – so a snapshot of some of those activities…
SPORT GODALMING
Michael is vice-chairman of Sport Godalming (which is our local sports council) – some of the activities he has been involved with include the running of various sporting events to coincide with and also to celebrate the amazing summer of 2012 – Sport Godalming was responsible for organising its 'Sports for All' day to celebrate the Queen's Diamond Jubilee which attracted tremendous local interest – it also coincided with a Jubilee run in both 5K & 10K routed through the Town and surrounds as well as a fun run – these races attracted over 800 participants and this inaugural event (called the Godalming Run) is now firmly in the Town diary and happens every May. This royal day was also honoured by a visit from the Earl & Countess of Wessex.
The Olympic Torch came through Godalming that year and Michael was heavily involved with this event on the Burys Field – where Sport Godalming also organised an 'old fashioned sports day' with over 1,000 children participating.
Sport Godalming runs a 'Go for Gold' programme which finances, through the Godalming Run, funds to support local athletes in their pursuit of Olympic and International success – to date it has raised many thousands of pounds for their benefit.
Michael was invited to a reception at Buckingham Palace that October in the presence of the Queen and Duke of Edinburgh to represent Sport Godalming with other volunteers to celebrate our involvement in the Jubilee celebrations earlier that year.
Michael was presented with the Town Mayor's award for Volunteers in 2013.
Michael also masterminds our annual sports awards which celebrates the best of our local sporting community, which always plays to a packed house.
FOOTBALL
Michael held the post of President of Farncombe Youth Football Club for many years and was instrumental in guiding the Club from its modest beginnings (two teams when founded in 1975) to over 20 boys' and girls' teams today.
At the Club he developed the ethos of the provision of a youth football club, welcoming children of all abilities, to play in a competitive but friendly spirit. He was instrumental in driving forward the acquisition in 1991 of the Club's home, Meade's Park in Farncombe, and the development of a new clubhouse and changing rooms.
He also held the post of Chairman from 1988 – 1993, but his main love remained responsibility for the Nursery Squad of children of pre and early school years before these children were old enough to fledge into team football.
RUGBY
Michael was Chairman of Guildford Rugby Club during a particularly challenging time in the club's history. The Guildford & Godalming Rugby Club based in Broadwater and Old Guildfordians, based in Stoke Park Guildford, merged in 2002 and Michael took over the Chairmanship of the new rugby club entitled Guildford Rugby Club in 2005.
Over several years Michael was instrumental in running events and raising a lot of money both for the club and for charity.
FILMS AND FILM SOCIETY
Michael has more than forty years' experience in both film, television, video/DVD and cinema exhibition. He joined Paramount in 1972 and has worked overseas in Holland and hopped across the Atlantic on many occasions.
Michael's film industry roles include Chairman and Honorary President of Production Guild, Member and Chairman of Guild of Film Production Accountants, Executive Committee Member of Guild of Film Production Executives.
Now retired, he still is involved with the industry in many ways – he recently travelled to Qatar to help a colleague get a film off the ground and at home is Publicity Coordinator for the Godalming Film Society.
The Society was established in 2007 and had grown to around 250 members by the time Michael joined in 2014. The Society's main purpose is to bring world cinema to a local audience but thanks to a thriving membership, the management committee was looking at ways to enhance the society offering to its members and the community when Michael joined the committee. Michael's invaluable knowledge and experience in the film industry was applied in two new ventures.
The first venture was to establish a small fund (£1500) each year to be used to support new local film makers. Michael drafted the terms and conditions for awarding this grant and led a small sub-committee to interview applicants and to recommend those who should receive grants. Applicants have often been student film makers and Michael has been exceedingly generous with his time and expertise to help successful applicants with their film making. The society has awarded 4 grants so far, enabling 4 new film makers to gain valuable experience and to premiere their films before a local audience.
The second venture for the Society was to run a summer film festival over 5 afternoons and evenings at various local venues. Michael chaired a sub-committee to implement this objective and the society has now run three very successful festivals. In 2019 it screened 13 films in 3 venues and promoted 4 cinema themed quiz nights in local pubs. The festival was entirely free to those who came and has successfully brought cinema to a wide local audience.
Michael is an invaluable member of the society's management committee, helping to make this society one of the best in the country.